Contact Us for Your Paving Needs
Whether you are starting from scratch or just looking to repair those pesky potholes, we have the expertise and equipment you need to get the job done according to your specifications, timetable and budget.
Contact our team for all your asphalt paving, repair, and maintenance needs.
To request a free estimate, click here.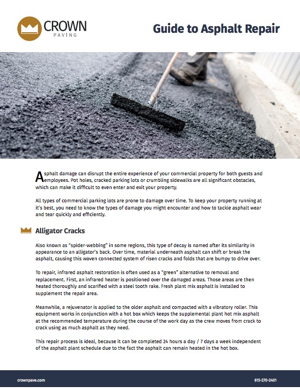 Guide to Asphalt Repair
Looking at a cracked driveway or potholed lot, and don't know where to start? Download our free Guide to Asphalt Repair and learn how to stay ahead of the wear and tear and keep your property running at it's best.